NOTES ON THE UNDERGROUND: Reviewed by RAZORCAKE
http://www.razorcake.org/announcements/records-reviews-from-razorcake-78-4-of-5
There are bands that are content to sit within a pigeonhole and there are bands that diligently push against the edges, rebelling against expectations to find a sound all their own. From the quasi-tribal drumming beginning the opening salvo here, "Cold Hearted," Red Dons make it clear they aren't content just fitting in. The tune, at its core a smart bit of minor chord pop, is rife with echoes of time past and present—a bit of post punk here, some garage there, drone, and the ubiquitous, insistent thud in the drums—rearranged and repurposed so that all are present but none overwhelms another. The remaining tunes follow along the same lines, each familiar yet retaining its own sound. The whole? A gritty-yet-tasty selection from a band that continues to wow with each successive release. –Jimmy Alvarado (Grave Mistake)
NOTES ON THE UNDERGROUND: Reviewed by RAZORCAKE
http://www.razorcake.org/announcements/records-reviews-from-razorcake-78-4-of-5
I just want to put this on record. The Red Dons are one of the best punk bands on the planet. Why anyone who loves real-time punk (and world-class punk, since the birth of punk) is sleeping on them is a mystery. (Or they're comfortable with their self-delusions/illusions.) I said the same about the Marked Men a decade ago, and although I'm pleased that the Marked Men are getting the recognition they so richly deserve, wouldn't it be nice that another active band that doesn't play any stupid corporate games and doesn't fence walk with morality gets widespread support in real time? Is that too much to ask? This one's at your feet, DIY punkers. Pick it up. Red Dons are punk giant nostalgia killers. For fuck's sake, "Cold Hearted" is has a 4:50 run time, is lush, sweeping, epic, and defies expectation. All three songs on this 7" are stunners. –Todd Taylor (Grave Mistake, gravemistakerecords.com)
NOTES ON THE UNDERGROUND: Reviewed by Lord Rutledge
http://fasterandlouderblog.blogspot.com/2013/11/my-first-red-dons-review.html
What's the best present-day band that I've never reviewed before? Easy answer: Red Dons. Why have I never reviewed Red Dons before? That's the tougher question! But, you know, it's never too late to atone for past omissions. Red Dons have a new 7″ out on Grave Mistake and Taken By Surprise Records – their first since last summer's "Ausländer". And in keeping with previous releases, their sound continues to be one-of-a-kind yet still firmly in the realm of the melodic punk style I'm known to tout. Not many punk bands are releasing A-sides nearly five minutes in length. Even fewer could actually get away with it! But "Cold Hearted", which leads off Notes On The Underground, is up there with the best of the Red Dons' 7″ tracks. Imagine, if you will, a genetic experiment where Echo and the Bunnymen's DNA got mixed with the Marked Men's. The intro approaches two minutes and highlights some truly exquisite lead guitar work. It's brooding and eerie, but by no means plodding. Even after the vocals come in, the song's dark undercurrent is no way obscured by its overt catchiness. If this is a sign of what's to come from Red Dons, we all should be very excited!
The back half of Notes On The Underground is more conventional but hardly pedestrian. "Losing Track" is textbook contemporary pop/punk with catchy leads, chunky bass lines, crazy sick drumming, and a melody that you will not be able to get out of your head for weeks. Coming on the heels of the more measured "Cold Hearted", it brings a nice surge of energy to the record. It's my fave track of the three. "Dead Ender" is in a similar vein of crisp & punchy melodic punk. It didn't shock me to discover that the latter two tracks were recorded a few years back, while "Cold Hearted" was just recorded this year. But in spite of the contrast between the sides, Notes On The Underground is an entirely satisfying EP. "Losing Track" and "Dead Ender" may be "lighter" in tone than Red Dons standards like "Ausländer" and "A Forced Turning Point". But they are killer tracks, and are sure to please anyone who's nuts for the "Dirtnap sound" . Given that the core members of this band are separated by thousands of miles and a very large ocean, it's no surprise that Notes On The Underground was three years in the making. But if you're a fan, you'll have to admit it was totally worth the wait. My first Red Dons review will definitely not be my last!
NOTES ON THE UNDERGROUND: Reviewed by PUNK NEWS
http://www.punknews.org/review/12225/red-dons-notes-on-the-underground-7-inch
I need to make a statement before continuing with this review of the latest release from The Red Dons: I am a doofus.
Why, you might ask, am I being harsh on myself? Well, it's because I've ignored Red Dons for far too long and am mystified by my oversight given that the band is like a mixture of the Marked Men and the Steve Adamyk Band, a combination that means Red Dons are likely to be better than many bands you have heard or are likely to hear. Oh yes, they're that good, and this 7-inch contains three tracks of some of the most glorious power-pop-punk you are likely to hear for some time to come.
What makes the Red Dons so good? Well, great songs and a great sound are a strong start for any band and that's clearly evident on these three tracks. There is a self-assurance inherent in them, which allows the band to take their time and not rush into anything. "Cold Hearted" is a triumph of songwriting, as it slowly builds with an intro that is over a minute and a half long — reminding me of the Arctic Flowers — with edgy guitars and a brooding, tight bass and drum combo. When the vocals kick in, the song steps up a few gears and there's another three minutes or so of sheer quality based around an eminently catchy tune.
Where "Cold Hearted" has a long, slow burning fuse, "Losing Track" takes less time to kick into gear and is a much more upbeat and immediate song, although "Dead Ender" tramples down the door from the off, overturning tables, chairs and anything in its way as it races along at a fair clip to deliver more attention-grabbing moments. I can't help but think of the Dickies' Leonard Graves Phillips when listening to all three songs, given the occasional strong similarities that Douglas Burns' vocals have to those of one of the most distinctive singers in punk rock, and let's be fair, that's not a bad thing to have in your arsenal. There is something untouchable about this release, as it's got the perfect combination in terms of sound, songs and delivery.
Listening to these songs is effortless and hugely enjoyable which in my book form part of why this band is so marvellous. So, don't be a doofus, leave that to me; snap this up like an alligator taking down its prey; devour it totally and luxuriate in the pleasure that this record offers up and while doing so, feel blessed that you are not like me. The fact is I do actually have a copy of the band's Fake Meets Failure but I've not really got round to listening to it but there's no doubt that I'm heading in that direction once I've finished typing.
AUSLÄNDER: Reviewed by RAZORCAKE ISSUE #71
I'm of the opinion that Red Dons are the best band walking the planet today. I fuggin' love this band! They have this way of making music that causes everything else around you to melt away and all that is left is the music. You are completely in that moment. It's a great feeling. The songs soar, race, and have undeniable soul. Catchy without being corny. Insightful without being overwrought. Just fucking great music. The title track is godhead! I've listened to it over and over so many times, and have yet to tire of it. Is that even possible? It's such a great song. A nice, quick tempo and the vocals float over, pulling you into the song, and the chorus burns into your mind. I like how the guitar comes in at the end and builds and closes out with a noisy swirl. The kind of song that makes you want to start a band and take over the world. On the B side is "Mauvaise Foi," which slows down a little bit with a jerky and bouncy rhythm here and there. When the melody comes in, nothing else matters. I really like the line, "Anointed one, where did I go wrong," as it leads into the verse. This single is a classic. –Matt Average (Dirtnap, dirtnaprecs.com)
AUSLÄNDER: Reviewed by WILLAMETTE WEEK
[POST-PUNK POP] Red Dons' moddish post-punk has never lacked for melody, but the Dons' new Dirtnap Records 7-inch might be the Portland quartet's most comely pop product yet. A-side "Auslander" comes within spitting distance of the five-minute mark without ever threatening to overstay its welcome, which is a rare feat. The anthem flies by in classic Adverts fashion, with punk fury mellowed by a helping of melancholic world-weariness; it's one of those expansive love songs in which romance escapes the trite ties of pair-bonding and attaches itself to existential equations. Which is to say you don't need to be in love to love "Auslander." You need only be alive. -Willamette Week
FAKE MEETS FAILURE: Reviewed by RAZORCAKE
www.razorcake.org/site/modules.php?name=News&file=article&sid=24265http.

Okay… so this is the new Red Dons LP. I should start by saying that Red Dons could very well be the best punk rock band on Earth. Death to Idealism is without question one of my favorite records of the modern era, due in no small part to its unique (and not universally loved) production. But mostly it is the songs—logical extensions of The Observers melancholic take on '80s East Coast punk rock, with a deeper injection of the East Bay Ray or Mike Palm lead style—that seat Red Dons atop the heap, and Fake Meets Failure boasts the band's best songs to date. The production on the record is noticeably more aggressive than that of its predecessor, and the songs themselves are both catchier and angrier. Whether intentional or not, Doug even channels Jello on a few spoken lines on the record, perfectly complimenting the ominous, middle-eastern scale leads found throughout. Lyrically, Red Dons remain painfully jarring, both in- and outwardly, and Doug's vocals are more haunting and pure than ever. In a year already full of great punk rock records, this is by far the best I've heard so far, and it's going to be incredibly difficult to surpass. Phenomenal. –Dave Williams (Deranged)
FAKE MEETS FAILURE: Reviewed by CAUGHT IN THE CROSSFIRE
www.caughtinthecrossfire.com/music/buzz/red-dons/.

Portland's Red Dons are back with another prime slab of punk rock following up their unbelievable debut 'Death To Idealism' that was released back in 2007 to rapturous applause in the underground scene and on this very website. Most second albums go through the mill somewhat but with the band's history including members forming The Observers, Clorox Girls and more this was always going to be a release to wait for and the result is nothing other than pure brilliance.

From the off, Fake Meets Failure revs up its engines and delivers riffs to die for and sheer punk rock excellence. Land of Reason chugs straight into where Death To Idealism left us with blood and dirt, exploding bombs and very much in the hands of killers as vocalist Douglas Burns slams his political stances across his songs. The beauty of his offerings are not only edgy but melodic too as each song of the ten on offer here just cut into your ears and make you want to grab the lyric sheet just like your favourite punk and h/c records of old. 3rd track 'Pariah' must have done the same thing for them as the band get mighty close to borrowing a few screaming riff solos from the likes of The Adolescents but knowing that this bands roots come from this world and they have taken it to a new level I guess they are allowed to fully get away with it. This only adds to the wonderful nostalgia of this record, it's not often that bands in the naughties can replicate the quality songwriting of our leading punk rock predecessors but when it comes with bands such as Regulations and Career Suicide as another 2 examples of bands who touch that nerve it's absolutely brilliant and people need to know they still exist.

One of the main stand outs on this record for me is 'Pieces'. 5 tracks into the album and the hail of 'Armageddon!' starts one of the best punk rock songs ever written covering rejection, dejection, brutal truth and oppression all summed up in 3 minutes and 6 seconds. Another track on repeat in my car from this album is 'Enemy Ears' that kind of takes the very best of The Briefs and mashes it up with the force of Dead Kennedys for flavour but obviously written in Red Dons' uniquely melodic and chuggy way.

Overall if you love hardcore and punk from the good old days, read Flipside and Maximum Rock and Roll for years and have been to see every touring band like us you are going to be stoked when you realise that those incredible records are still being made to this day. Make sure you don't download it for free off some shit blog on the internet, go and support this band and buy a CD or a slab of their amazing vinyl that someone has made for you right now, you will not be disappointed. – Zac
FAKE MEETS FAILURE: Reviewed by RAZORCAKE
www.razorcake.org/site/modules.php?name=News&file=categories&op=newindex&catid=6&alpha=r&page=10.

RED DONS: Fake Meets Failure: LP
Lightning. Pure, white-hot, hot-streaking, sizzling, punk lightning. It's punk that people who've "given up," "don't get," or "moved on" from punk have the highest percentage of liking. It's just so obviously scorching, beautiful, and crackling music, regardless of genre. And I was reluctant to admit that lightning could strike twice. One of the driving forces behind Red Dons is Doug Burns, the lead singer and guitarist of the untouchable every-member-made-it-greater band, The Observers. The Red Dons first LP, Death to Idealism, while it had its bright spots, sounded covered in blankets, a little restricted and restrained, a little awkward, a little tentative. Getting used to new skin. Not so with Fake Meets Failure. The burka's ripped off, faces are revealed, and those faces are screaming. Analogous to the transformation of the Vicious to Masshysteri or Sexy to Future Virgins, it took a little time from the dusk of one band to the dawn of another, but the newer band, exhibiting similar genetic code to its predecessor, has developed its own personality, its own habits, and has accomplished what many, including myself, didn't think was possible: release more music that stands shoulder-to-shoulder with some of their own legacy's finest work. One of the best punk records of 2010, hands down. –Todd Taylor

FAKE MEETS FAILURE: Reviewed by MAXIMUM ROCKNROLL #329
The second Lp from one of my current fave bands – now that's a great start to a bad Monday. Forget the Observers, this is THE RED DONS – listen to it with fresh new ears and stop harkening back to the past. Less dramatic and herky-jerky than their last LP, more to-the-point, driving a stomping beat that's cloaked in darkness whilst soaking up the dense gloom of the Pacific Northwest. Take the epic heaviness of FROM ASHES RISE, dilute it to a more punk rock formula, throw in the density of the WIPERS and add some early- '80s LA hardcore melody, and that's the winning concoction of the RED DONS. The first LP is great; this is amazing, less complicated, more rock with a straightforward approach that doesn't come off as simple. Tune after tune after tune, a Scandinavian feel shines through the more I listen, with a hint of early UK82 Riot-City type punk rock. This might be my record of the year.

FAKE MEETS FAILURE: Reviewed by SOLO ES PUNK
soloespunk.blogspot.com/.

Posiblemente uno de los discos más esperados del momento. Una nueva entrega de los Red Dons, es siempre una buena noticia y una garantía de calidad. En esta ocasión, los de Portland, siguen en la misma línea Punk de melodías tristes y voces flipantes, que ya comenzasen con los Observers; pero hay pequeñas variaciones. En general, el disco se me antoja mas lento, detalle que no beneficia mucho a un estilo tan melancólico y que hace que el oyente pueda caer en el aburrimiento, sobre todo, manteniendo, como mantienen, la larga duración de sus temas. Por otro lado, el sonido me parece más oscuro y sucio, pero también más denso y empastado. Creo que las guitarras deberían sonar más brillantes para añadir algo de color al paisaje tan gris que pintan (más como las guitarras de The Vicious). Aunque, sí lo que buscan es crear una atmósfera más pesimista, desde luego, así lo logran con creces. No obstante, pese a los cambios, hay bastantes temas que no desentonarían en su disco anterior. Y, en líneas generales, siguen manteniendo esa magia que combina con maestría Punk agresivo y potente con agónicas melodías en blanco y negro tan bien heredada de los Wipers, y tan brillantemente adaptada. Vamos, que aunque me guste más su anterior trabajo, en éste siguen demostrando que son uno de los más grandes grupos Punk del momento.
– Mgrtn.
FAKE MEETS FAILURE: Reviewed by PERIFERIA:
www.periferia.cz/clanky/red-dons-miri-na-strahovskou-sedmicku-589/
Kdybych m?l vybrat punkovou nahrávku roku 2010, byla by to deska "Fake Meets Failure" (Deranged Records) od Red Dons. Tahle skv?lá kapela z portlandské punkové líhn?, kde se sešli ?lenové The Observers prost? neponechala nic náhod? a nahrála album, které zabíjí. Stejn? jako v p?ípad? The Observers je i tady v?d?í osobností Doug Burns a a?koliv se to zdá neuv??itelné, tak op?t tahá z rukávu jedno eso za druhým. V podob? dokonale vystav?ných skladeb, které mají neskute?ná punkový drive i dokonalé melodie, je pak sází na st?l jednu po druhé a vám zbyde jen otev?ená pusa. Základ všeho je samoz?ejm? na p?elomu 70. a 80. let a když mluvíme o Portlandu, musíme nutn? zmínit Wipers, ale ti jsou tentokráte opravdu pouze výchozí bod. Red Dons si z nich berou jejich p?ímo?arost i melancholii, což byla kombinace, kterou odstartovala jedna celá kapitola punkové historie a sami k tomu p?idávají ješt? tvrdost a totální hitové pasáže. Hlavn? n?které kytarové nápady jsou prost? skv?lé, jak vyst?ižené z u?ebnice hc / punku a p?itom totáln? sv?ží. Tenhle ?erstvý vítr p?inesl do kapely p?edevším její nový ?len, kterým není nikdo jiný než Will, kytarista a zp?vák Born/Dead. Spolu s hlavním kouzelníkem Dougem, Justinem z Clorox Girls a Hajji Husaynem vytovo?ili neuv??iteln? kompaktní kapelu, která se poslední rok pravideln? objevuje v osobních žeb?í?cích punks po celém sv?t? jako jedna z nejlepších živých hc / punk kapel sou?asnosti. Jestli máte rádi Wipers, Undertones, Adolescents, Joy Division, ale i anglické kapely jako Adicts, 999 ?i Leatherface, budete Red Dons milovat.
FAKE MEETS FAILURE: Reviewed by PLASTIC BOMB
www.plastic-bomb.eu/cms/index.php/reviews/cds-a-vinyl/1526-red-dons-fake-meets-failure-lp.

Wer die WIPERS und ADOLESCENTS mag, findet hier neues Futter für den unersättlichen Plattenspieler. Die RED DONS aus Portland bestehen aus Mitgliedern der OBSERVERS und CLOROX GIRLS. Das hört man natürlich. Der apfel fällt nicht weit vom Stamm. Die Musik strahlt vor allem eins aus: Schönheit. Die Songs sind geprägt vom Gitarren-Punk der WIPERS, den wunderschönen Melodien und Chören des 77er-PowerPop/Punkrocks a la BRIEFS und einer immer latent mitschwingenden Melancholie. Bands wie THE VICIOUS und MASSHYSTERI aus Schweden haben uns diesen Sound ebenfalls näher gebracht. Und natürlich die IDLE HANDS aus Deutschland, denen die RED DONS hier sehr nahe kommen. Die Gitarren-Akrobatik ist beeindruckend. Wenn man morgens nach dem Aufstehen als Erstes die "Fake meets failure" LP auflegt, dann durchzieht sofort ein angenehmer Hauch von Schönheit und Zufriedenheit den Raum. Klasse LP in 3-farbigem Siebdruckcover + Downloadcode. Micha.- (Taken By Surprise Rec. / www.mailorders.de)
FAKE MEETS FAILURE: Reviewed by I COULD DIE TOMORROW
icoulddietomorrow.blogspot.com/2011/03/at-this-point-more-history-than.html.

When the single "Pariah" surfaced shortly before this second Red Dons LP was dropped my expectations for Fake Meets Failure skyrocketed. I have played the first Red Dons album, Death to Idealism, to death and happily looked forward to more material. Fake Meets Failure shattered my expectations. The Red Dons have shed a little of the eccentric quality of their first record and written 10 tracks of driving three and four chord punk. As many jangly leads as the first record but with a slightly thicker sound and a bit more pulsing. The first few seconds of this record are sampled from the last few seconds of Death to Idealism; the eerie tinkering of a toy piano. Vocals here are a mix of fairly impressive melodic reaches and shouting. Every song on this record is worthy of being a single.
FAKE MEETS FAILURE: Reviewed by THRASHERS AND SLASHERS
thrashersandslashers.blogspot.com/2010/06/red-dons-fake-meet-failure.html.

Ok people I've been gone for some time now but I now work at a record store and should have new records to review constantly. This hot little platter serves up some new fresh tunes from Red Dons who have been turning heads and stroking shafts with their catchy punk tunes with a slew of impressive releases. This record will please those fans of Red Dons but also throw them a few curve balls, like a beautiful intelligent woman who ends up being a transvestite; she's still hot, it's just different now…. Anyway! Red Dons play their rockin catchy tunes but throw in some new elements. At times it gets a little surfy and the song "Pariah" sounds like it could have been an Adolescents song, at least musically. The singer's voice continues to sound like a fine silk being slowly draped across a barely legal teenage girl's body, not relying on the "whoas" so much this time around. Bottom line if you dug their previous material this will titillate you with familiarity and keep you interested (like your cousin you accidentally hooked up before you realized who they were and you still think about them from time to time). If you haven't heard them, this is a great place to start.
-Davey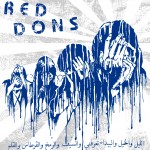 "DEATH TO IDEALISM" reviewed by Digital Meltdown.

Once upon a time there was a band called The Observers. They were short-lived and I didn't come to appreciate them until they were no more. Fortunately, right around that time former members were teaming up with some other fine folks to bring us Red Dons. They take their moniker from a mysterious group of Cambridge University professors who were Soviet spies during WWII.

It did not take long for Portland, Oregon's Red Dons to become one of my favorite bands. When I first heard them, I don't think I had even finished listening to the first side of the LP before I fell in love. This comes from the out of print 2009 LP for the Brazilian tour. It sounds quite different compared to the original pressing that featured a very lo-fi mastering of the album. That lo-fi mastering is part of what endeared it to me. It went hand in hand with the lyrical topics of the album, like feelings of alienation, dying hopes, consumerism, and tyrannical fascist dictators. When I heard the Brazilian LP master though, it was like a rediscovery. It is so cool to have these two different versions of this album, one of the catchiest, most intelligent and inspiring punk records I've ever had the pleasure of listening to, and I've heard plenty. There have been comparisons of Red Dons to many great punk and post-punk bands of the 1980s, but there is something about the Red Dons that makes them even more indispensable for me. The totality of their art goes right for my heart and does not let go. The urgency and passion with which singer Douglas Burns delivers his lines is infectious. The music makes me wish I was at the show jumping around in the crowd. The album clocks in at just over thirty minutes, and if you are like me you will be playing it over again immediately.

Honestly, everyone should give this a listen. If this album does it for you, I implore you to buy their latest album Fake Meets Failure, which could not be a more perfect sequel for Death to Idealism. Red Dons are gearing up for a European tour in April and May. If you live near any of the places they are set to play, I recommend you mark your calendar and GO TO THE SHOW!

"DEATH TO IDEALISM" Reviewed by Pekka VÃyrynen of U.C. Davis.

Death To Idealism is the best punk rock record I've heard this year. Sonically, it's much like the classic So What's Left Now by the Red Dons predecessor band The Observers. Telecasters pump trebly chords on top of pummeling drums and limber and driving, almost Rezillos-like bass lines, joined by chanty, T.S.O.L.-like vocals that drip passion. The song craft, though not breathtaking, is still good enough to count as top-notch. The record conveys its dominant theme, social alienation, not only through lyrics that lament mass consumerism, religious fundamentalism, the current political direction of the United States, and the difficulty of finding one's place in the world. It conveys alienation also by its sound: the vocals are mixed to sound distant, and as if echoing in an empty space, and the overall tone is quite cold and clinical. No doubt this is due partly to the cheap production, but it's there nonetheless. A perfect soundtrack to feelings of rootlessness. COID: "Walk Alone"

"DEATH TO IDEALISM" Reviewed by Crossfire

By now we're all well accustomed to underground hardcore and punk bands not lasting long. One album, a couple of 7″s and a couple of tours sleeping in a van and eating nothing but cheese and bread later and they're gone, onto the next band or, worse still, the lure of a proper job.

The Observers were one such band. Hailing from Portland, they made one great album, a couple of singles then stopped. Gutted. All is not lost, however, because in Red Dons we have a band that features Doug from The Observers and Justin from Clorox Girls doing an anthemic punk style that is similar to where the Observers left off, but somehow better and with more style and substance.

There's a darkness here that recalls the blackened post-punk horror grooves of The Wipers, Social Unrest or later TSOL mixed with the glorious melodic rush of Naked Raygun, early Social Distortion and the snot-dribbled hardcore of the Angry Samoans or The Adolescents. In short, these are great punk rock songs played by a great punk rock band. What's not to like? And now I'm kicking myself repeatedly in the balls for missing them when they toured through the UK this month. Sherry, you're an idiot.

James Sherry

"DEATH TO IDEALISM" Reviewed by MOG

World-class punk rock is again brewing in PDX . The Observers (responsible for So What's Left Now, one of the best punk records of the millennium so far) are sadly no more, but more or less the same personnel continue as Red Dons. Their debut album Death To Idealism is sonically much like The Observers. Telecasters pump trebly chords on top of pummeling drums and limber and driving, almost Rezillos-like bass lines. The lead singer and primary songwriter Douglas Burns again delivers chanty, T.S.O.L.-like vocals. This all is done with the passion of Stiff Little Fingers. The song craft isn't quite as amazing as on So What's Left Now, but it's still good enough to count as top-notch. The record conveys its dominant theme, social alienation, not only through lyrics that lament mass consumerism, religious fundamentalism, the current political direction of the United States, and the difficulty of finding one's place in the world. It conveys alienation also by its sound: the vocals are mixed to sound distant, and as if echoing in an empty space, and the overall tone is quite cold and clinical. No doubt this is due partly to the cheap production, but it's there nonetheless. A perfect soundtrack to feelings of rootlessness.

The bottom line: If you like punk rock but are tired of revivalist punk bands, check out Red Dons. Death To Idealism is the best punk record I've heard this year.

"DEATH TO IDEALISM" Reviewed by Punknews.org

The Red Dons are a band born out of continuity. Though the Observers thrashed up the Oregon coast for a good part of the first half of the decade, by 2005 they were no more. Members split, new projects formed, and in the space that once was a regionally prominent but overall painfully undercelebrated punk band, there was a void.

The first layer of audio spackle to fill it came in the form of the Revisions, a radical acoustic departure from the gritty hardcore garage punk of frontman Douglas Burns' the Observers that initially came together to play at a book reading of fellow Portlander and Clorox Girls vocalist Justin Mauer. However, without the punk bite to properly continue what the Observers had begun, the void was still left slightly exposed. Cue the inclusion of Mauer on guitar, the Revisions' Hajjii Husayn and Rich Joachim, and a few thousand kilowatts of electricity to accompany the classically catchy yet unconventional songwriting of Burns, and the Red Dons emerged, signifying the perfect link between the slam dance-ready Observers and anything-goes-acoustic Revisions.

Without ever crossing into sugary pop-punk territory, the Red Dons put forth some of the catchiest punk rock you may ever hear. Okay, that much may be an overstatement, but keep in mind this is a band comprised of equal parts Observers, Clorox Girls and Revisions. But it's more than just the melodies and songwriting that make the Red Dons so potent. It's something those Pacific Northwesterners have mastered as evident in the Clorox Girls' J'aimes les Filles and the Briefs Sex Objects and that is an album that's not just a collection of good songs, but an amalgamation of all the elements of the art flawlessly united. While concept albums usually produce similar, but over-the-top results, the Red Dons achieve this much more subtly through visual and thematic aspects on down to a production value that is not necessarily low-budget, but intentionally creates a hallow, two-dimensional atmosphere that corresponds perfectly to the other elements of the record.

Though all outstanding, the track "Incomplete Action" seems to represent the paradigm of this effort to an absolute 'T.' Burns' melodies are hauntingly catchy, even above experimental instrumentation that at one point near the 1:50 mark whirls about recklessly like the inside of a Kansas twister bound for Oz. The rise and fall chit-chat singing sounds agitated and preoccupied as he restlessly comes to terms with dying hopes. Another lively and unorthodox tune is the trenchant and varied "Independent," which is quite literally almost half-comprised of machine-gun drum fills even as Burns is shouting out his chorus "Fascista! But thank you for the world you gave us / So what is the difference, man?" There are also more traditional numbers like the infectious wailing of "Walk Alone," which borders on a surf feel and the not-as-catchy "This City" which seems a nod to `50s rock and roll styles with the metered rebel chronicle of a restive vagabond. The most amusing moment on Death to Idealism is the few verses in "Just Write, Romeo" when Burns appears to be channeling Joe Jack Talcum on one of his more snarky rants.

With members obligated to other, more central projects, it's hard to get too optimistic about the future of the Red Dons. But even if this was to be their sole LP, it's one that won't be getting a rest from spinning well past dizziness anytime soon.

"DEATH TO IDEALISM" Reviewed by Michelle Campbell of EXCLAIM! magazine.

Where Portland punk band the Observers left off, Red Dons take over. Featuring previous Observers singer Doug Burns, as well as Justin Maurer from the Clorox Girls on guitar, Red Dons are the replacement that Observers fans have been craving. Featuring a style that's both catchy and dark, not unlike that of the Wipers, Death to Idealism (the band's first full-length) is filled with powerful themes, vibrant rhythms and classic vocals. Burns proves his simple yet dynamic songwriting ability with the melancholy themes and eerie melodies of songs like "Walk Alone" and the almost menacing "Everyday Distractions." Sonically, the production on Death to Idealism would typically leave a lot to be desired but the distant sounding vocals and rough guitars only add to the feel of the album. Death to Idealism is a must for anyone hoping to find a modern equivalent to the classic punk of the 70s and 80s. (Deranged)

"DEATH TO IDEALISM" Reviewed by Jordan A. Baker of Pastepunk.com

Once again, Deranged Records comes through with another thrilling neo-vintage punk rock release. RED DONS are a marvelously executed lo-fi unit that recalls the best of groups like the BUZZCOCKS and California surf/skate punk like THE ADOLESCENTS, with a healthy dash '77 style punk mixed in. The group, which is more or less a continuation of THE OBSERVERS (Douglas Burns is on vocals), and features Justin Maurer of CLOROX GIRLS, is particularly precise in its musicianship and steadiness. With off-kilter tempos out of the equation, the RED DONS excel in areas involving head-nodding and toe-tapping. The minimalist nature of the recording requires a bit of adjustment (x100 if the last thing you listened to was a FALL OUT BOY record), but it's also much easier to take stock of the band's effervescent harmonies and filthily fast drum rolls. The RED DONS leave a mark lyrically as well, as there's an air of personal desperation and isolation to Death To Idealism, which only raises the stakes of the band's impact. Everything old is new again, and I'm not complaining.

RED DONS "Live Performance April 22, 2007 in Montreal, Quebec @ L'Esco" (Reviewed by J.B. Staniforth)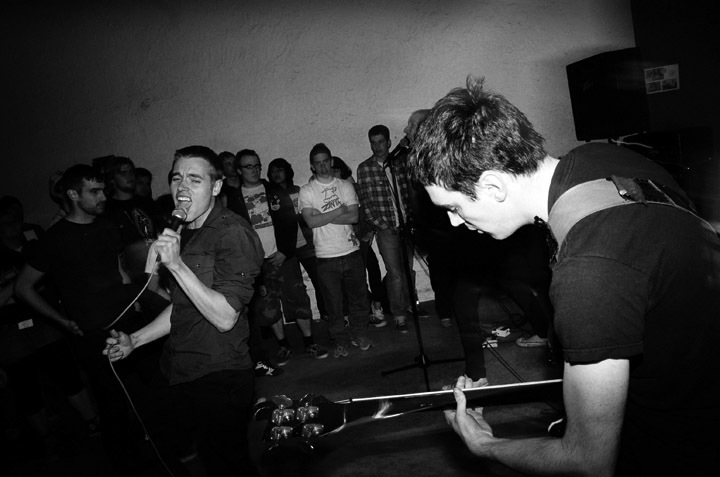 (Photo by Nate from Toronto show)
There have been times that I've seen bands I've been truly excited about only to discover that onstage they lack the energy to inspire a reaction in the crowd. Some just lack energy in general, but others seem to have it without knowing how to impart it. However, there are also those bands who succeed in shaking me from the first chords and the initial drum rumble, those groups I find myself dancing to before the songs have even fully started. Those are, always, the best musical surprises.
Two years ago I saw Portland OR's The Observers and experienced that rare, instantaneous rush, so when I heard that they had split up and that frontman Doug Burns and bassist Hajji were passing through town as the Red Dons, I was eager to see them again. I have the Observers LP and it's a fine record, but over time I'd forgotten what to expect from its principal members live. It took them about ten seconds to remind me: even before the lyrics came in, I was swept up by the swift current of the rhythm. The response in my feet and hips was unconscious and instant. By the time Burns dropped his guitar, grabbed the microphone, and hopped off L'Esco's miniscule stage into the crowd a few seconds later I was already awash with elation. Ten or so songs (including three Observers numbers) after that, it was over far too soon.
I've always been a sucker for a particular sound– frantic and melodic surf-influenced rock and roll in the tradition of late '70s West coast punk rock– and it's in the Red Dons favour that they play pretty much that. But what's important about the Red Dons is that despite playing a style that's arguably of one time and one place, they make the music immediate. You don't stand in the crowd and watch them play– you feel what they're playing, and Burns goads spectators into response with intense eye contact, constant motion, and a long microphone cord that allows him to wander far from the stage and engage people in the back (or, in some cases, wrap around and tie them up in groups). 30 years past punk rock's year zero, none of this behaviour is novel, and I've seen bands turn the same thing into uninspired schtick, yet coming from Doug Burns, against the able backing of his band– particularly the fierce rhythm section– it's electrifying. The Red Dons, like the Observers before them, actually encourage a feeling of breakdown between the audience and "the show," leaving everyone in the crowd feeling like a participant. That feeling is the aspiration of many second-rate punk bands, but the rarity of its achievement in spite of so many lame attempts makes the Red Dons genuinely special.
Concert Reviews: The Red Dons and the Estranged in Kansas City at the Newsroom, 6/18/08.
By FLANNERY CASHILL of The Pitch Kansas City.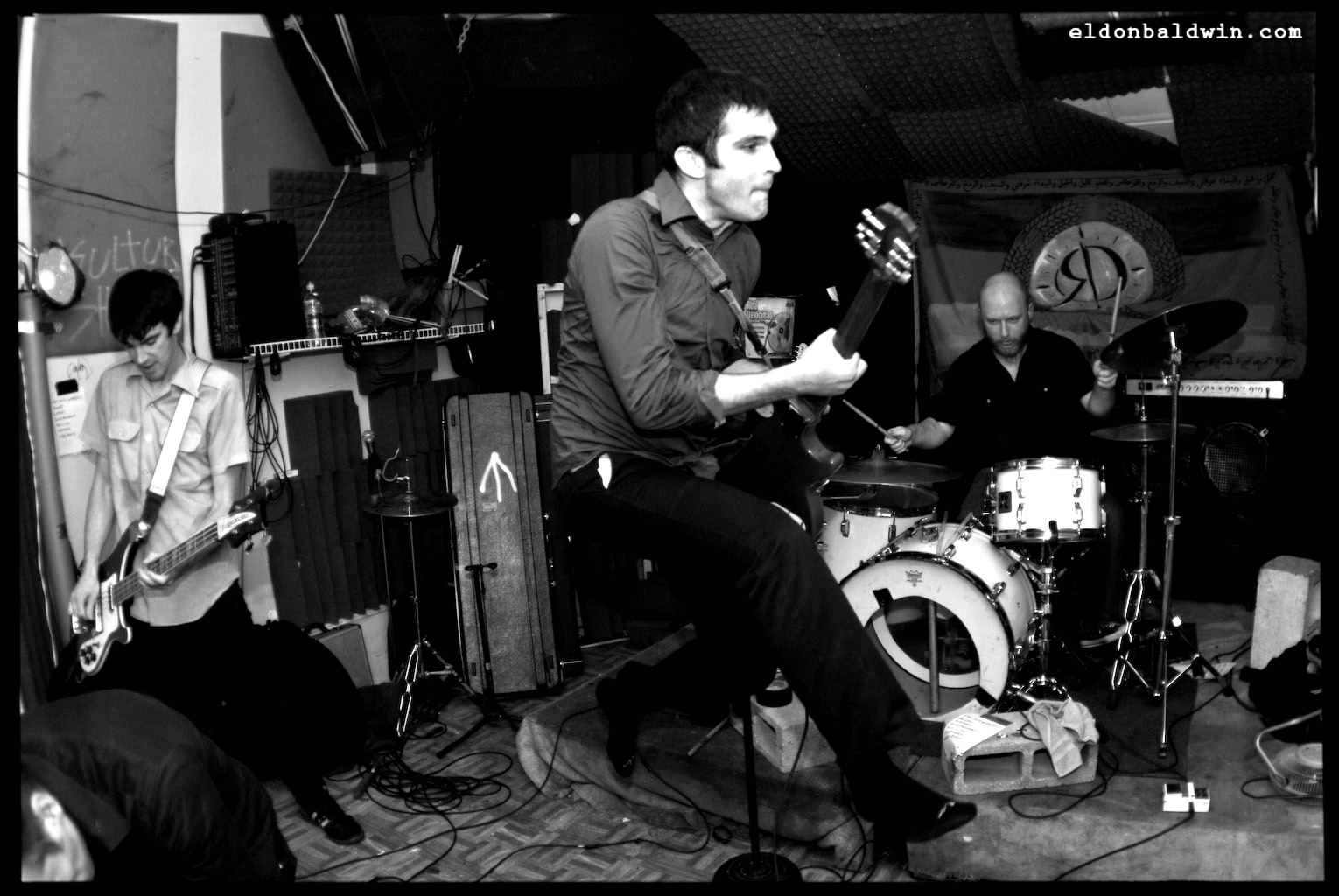 The Red Dons emerged from the fallout of the Clorox Girls and the Observers, two inspired and unfortunately short-lived punk bands. The Clorox Girls played the Anchor about a year ago, and the Observers played the MoMo gallery two or three years before that. A few MoMo attendees got punched in the crotch, but no matter, many of them risked the groin damage again last night, the Observers were just that good.
The Red Dons pull a few songs from the Observers' catalog, and continue the tradition of perfect anti-hero anthems. Their songs careen between triumph and doubt, between ambitious guitars and dark, pummeling bass riffs, between whooa-oh harmonies and grim spoken prophesies. Live, the dudes go ape, flailing on their instruments and pushing their way through the crowd. When untethered from his guitar, lead singer Doug Burns thrashed audience members by the shoulders. Eye contact goes a long and unnerving way, especially in such close quarters as the Newsroom. It's interactive and appropriately uncomfortable, like Cats.
If at first I sounded at all frustrated, forgive me. I loved last night's show, and I'm grateful to whomever made all necessary phone calls to give the Estranged and Red Dons a place to play. I only wish that the punks would resurrect the lost art of flyering and of incessant promotion, namely because of bands like the Red Dons, whose relative obscurity baffles me. In some alternate universe, the Red Dons play all day every day on top forty radio.
Critic's Notebook
Personal Bias: I adored the Observers, in an earnest, adolescent way. I sang along to them, loudly and terribly, and still do.
Random Detail: I always hope that Kansas City makes a good impression on touring punk bands so that they might spread the word of our hospitality. I was disappointed, then, that the band ate at Pancho's after the show.
By the Way: I can't help but wonder if peak oil will make touring impossible for everyone but Bruce Springsteen.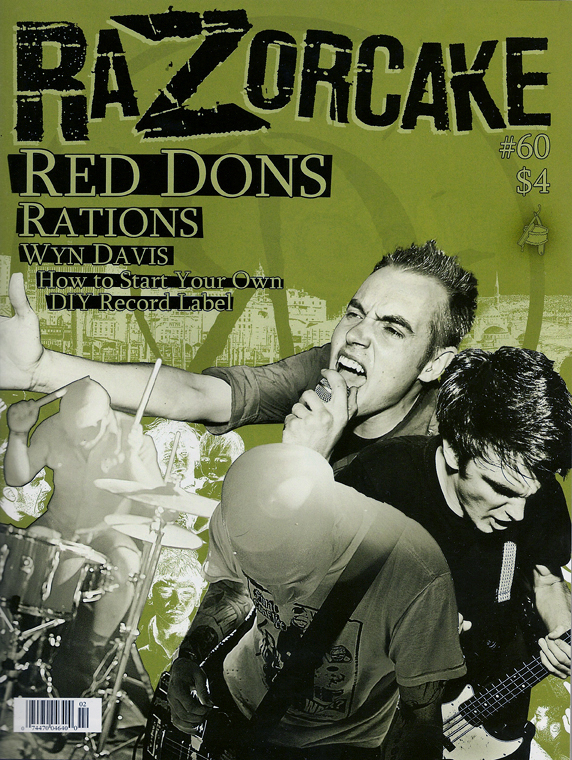 RAZORCAKE INTERVIEW: Reviewed by Korrupt Yrself

I haven't even finished reading this interview in the most recent Razorcake about the Red Dons, but dudes, I am even more stoked about this band then I was before. Right after I moved I got an email from my friend Sasha who does the Make It Happen zine. He told me I should check out this band called the Red Dons as their album Fake Meets Failure was one of his favorite albums of 2010. I checked it out and the shit was totally blistering, filled with Clash like energy, a bit of garage rock, heavy Eastern chord progressions and movements. It's jangly, noisey, firey and pissed off. I was pretty psyched on the recommendation and the album and have been trying to steadily put it in rotation.

The problem is this blog has become a bit of a dumping ground for me to get lazy and just write record reviews. I have a list of like six albums now to review, but I have kind of stopped actually writing about music. This blog was supposed to sort of supplement that aspect of the zine, but in my unemployed state has become more of the focus of this whole project. I'm kind of mad at myself about that. I mean, there aren't a lot of music zines actually left that I know of that aren't fairly big productions. The photocopied zine in terms of music seems to have become less interesting to the zine reading and making public. I know, I have a hard time getting my small run of 100 issues to the public (please buy zines here). But I wanted this blog to be the place where extra stuff went, and instead it's like a part of my daily life.

This doesn't have a lot to do with the Red Dons, but it kind of does. Basically, after reading the first half of the interview I decided that of all the music I have heard over the last few months I have been furiously writing about music, the Red Dons are the only band I have heard that are doing something unique both musically and with in the content of their art. Pretty much any established, so-called indie act has gotten repetitive and boring and lost their sense of adventure. And while there are a few punk bands that are either great (Ceremony, the Arrivals) or who truly don't give a fuck about anything besides Pizza, Weed, Beer and Broin' Down (Too Many Daves), the genre as a whole has gotten very complacent in stretching itself out into new sounds. Too often musicians attracted to punk rock and DIY are much more interested in being loud, heavy, sad, angry, aggressive within the confines of a very wealthy country. No band in America really has to fight for space, it's basically free and while not glamorous, the DIY network is pretty much secured. This leaves a lot of room for a lot of bands to be very upset in basements, squatted spaces, university's and churches. And while I love a lot of them, and their frustration and damage resonates very deeply with my 33-year-old self, not many of them are really breaking the mold musically nor constructing a narrative outside of American suburban damage.

This is where the Red Dons are different. It helps greatly that a lot of their lyrical songs are about Third World Paranoia of the potential of being blown up. The interview in the most recent Razorcake reveals a lot of first hand experience by band members in their travels through Jordan and other Mid-East countries. Countries that, as they point out, are replete with American military and private citizens conducting capitalism experiments under the guise of NGO's. And yet, as they say, even with all this direct involvement in said countries, America as a whole is very uninterested in them. I'm to blame too. The state of the world has me so depressed that I do everything to ignore it. I can't barely function on a day-to-day basis as it is, but frankly, we are all deeply effected by the violence conducted on our behalf by western Governments and the Corporations whose profit margins they seek to protect and serve. Just thinking about the issues that I am not even talking about here is giving me anxiety. There is a lot of stupid, evil, vile, violent shit being conducted on our behalf, with our complicity because we are all too shit scared and terrorized by it to have any effect on it what so ever. (To all my punk, anarchist, leftists, radical friends who are brave and courageous enough to stick your necks out in this unforgiving society and actually try something, none of this applies to you. You are my heroes and I wish I had your courage, but I don't. I suck that way.)

So we have the Red Dons who talk about the realities that sometimes opening your front door could literally kill you because you are an American in a foreign land and your neighbors hate you. They talk about Post-Traumatic Stress Disorder that was caused by this direct, realized, experienced psychological violence. And what I learned from this, or rather what is reinforced by listening to this music and reading this interview, is that most of the world hates me just because I was born in this country. And that pisses me off because I am just a lone dude, sitting in an apartment, trying to use too many resources, live an ethically sound life and create things that hopefully make people smile or feel better, or feel less shitty.

There are like a few bands that matter to me personally. Some of them matter to a lot of other people too. Some of them no one's really heard of. Some of them mean so much to me and others think they are stupid. That's all fine and dandy. I write about bands and music because I love music. It clears the noise, anxiety, stress, fear, damage and depression in my head. Sure, the sun here in Albuquerque has helped, as have the polite, friendly people. The slower pace of life, where people aren't all evil and frantic and crazy the way they were in DC has also calmed the nerves a bit. But mostly, I just feel like if I don't drown out all that weird, noise in my life and body I will go insane. But sometimes there are bands that really tap into that fear and energy and are both challenging and comforting. To an even lesser extent, do I think they create something that should reach outside the context of punk rock. The Red Dons are that band. Everyone needs to listen to this.

So, I don't normally do this, but I feel this strongly about people listening to this music. Below are links to albums that were illegally uploaded by others (NOT ME so if you are in The Red Dons or put these albums out, don't ask me to take them off the internet. I didn't put them up. I will unlink from them but I can't actually remove them from the internets). If you are too chicken shit to spend your money or are unemployed and too worried about money, that you don't want to financially risk and investment you can grab their records. I have done it. I'm not that psyched about it, but the first bit of income I get will go directly to ordering all available records and merch from this band because they are that important. You can buy everything this band has recorded for $22 dollars here. And seriously, just do that. First of all, the art work is part of the experience. Part that I have yet to enjoy and I suck for that. Second, stealing music is lame and should only be tolerated, but still frowned upon for the unemployed. Unless it's shitty indie music that is over produced and sucks anyway, or any thing on a major label because corporations suck and should be destroyed.