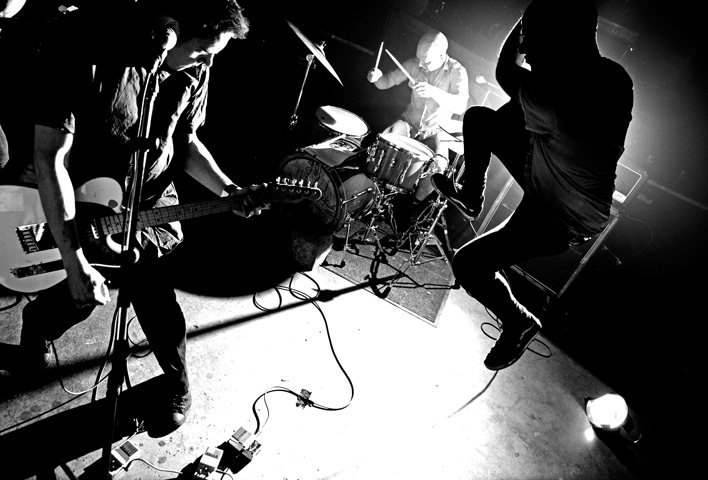 Our new LP Fake Meets Failure and the single Pariah are now available for purchase off our website. To find these records and more go to the STORE page on our site. Below is a recent review of Fake Meets Failure. To read more reviews go to the REVIEWS page.
"FAKE MEETS FAILURE" reviewed by Zac of Caught in the Crossfire.
Portland's Red Dons are back with another prime slab of punk rock following up their unbelievable debut 'Death To Idealism' that was released back in 2007 to rapturous applause in the underground scene and on this very website. Most second albums go through the mill somewhat but with the band's history including members forming The Observers, Clorox Girls and more this was always going to be a release to wait for and the result is nothing other than pure brilliance.
From the off, Fake Meets Failure revs up its engines and delivers riffs to die for and sheer punk rock excellence. Land of Reason chugs straight into where Death To Idealism left us with blood and dirt, exploding bombs and very much in the hands of killers as vocalist Douglas Burns slams his political stances across his songs. The beauty of his offerings are not only edgy but melodic too as each song of the ten on offer here just cut into your ears and make you want to grab the lyric sheet just like your favourite punk and h/c records of old. 3rd track 'Pariah' must have done the same thing for them as the band get mighty close to borrowing a few screaming riff solos from the likes of The Adolescents but knowing that this bands roots come from this world and they have taken it to a new level I guess they are allowed to fully get away with it. This only adds to the wonderful nostalgia of this record, it's not often that bands in the naughties can replicate the quality songwriting of our leading punk rock predecessors but when it comes with bands such as Regulations and Career Suicide as another 2 examples of bands who touch that nerve it's absolutely brilliant and people need to know they still exist.
One of the main stand outs on this record for me is 'Pieces'. 5 tracks into the album and the hail of 'Armageddon!' starts one of the best punk rock songs ever written covering rejection, dejection, brutal truth and oppression all summed up in 3 minutes and 6 seconds. Another track on repeat in my car from this album is 'Enemy Ears' that kind of takes the very best of The Briefs and mashes it up with the force of Dead Kennedys for flavour but obviously written in Red Dons' uniquely melodic and chuggy way.
Overall if you love hardcore and punk from the good old days, read Flipside and Maximum Rock and Roll for years and have been to see every touring band like us you are going to be stoked when you realize that those incredible records are still being made to this day. Make sure you don't download it for free off some shit blog on the internet, go and support this band and buy a CD or a slab of their amazing vinyl that someone has made for you right now, you will not be disappointed. -Zac